RPB/IRFF Announce Catalyst Awards for AMD Stem Cell Research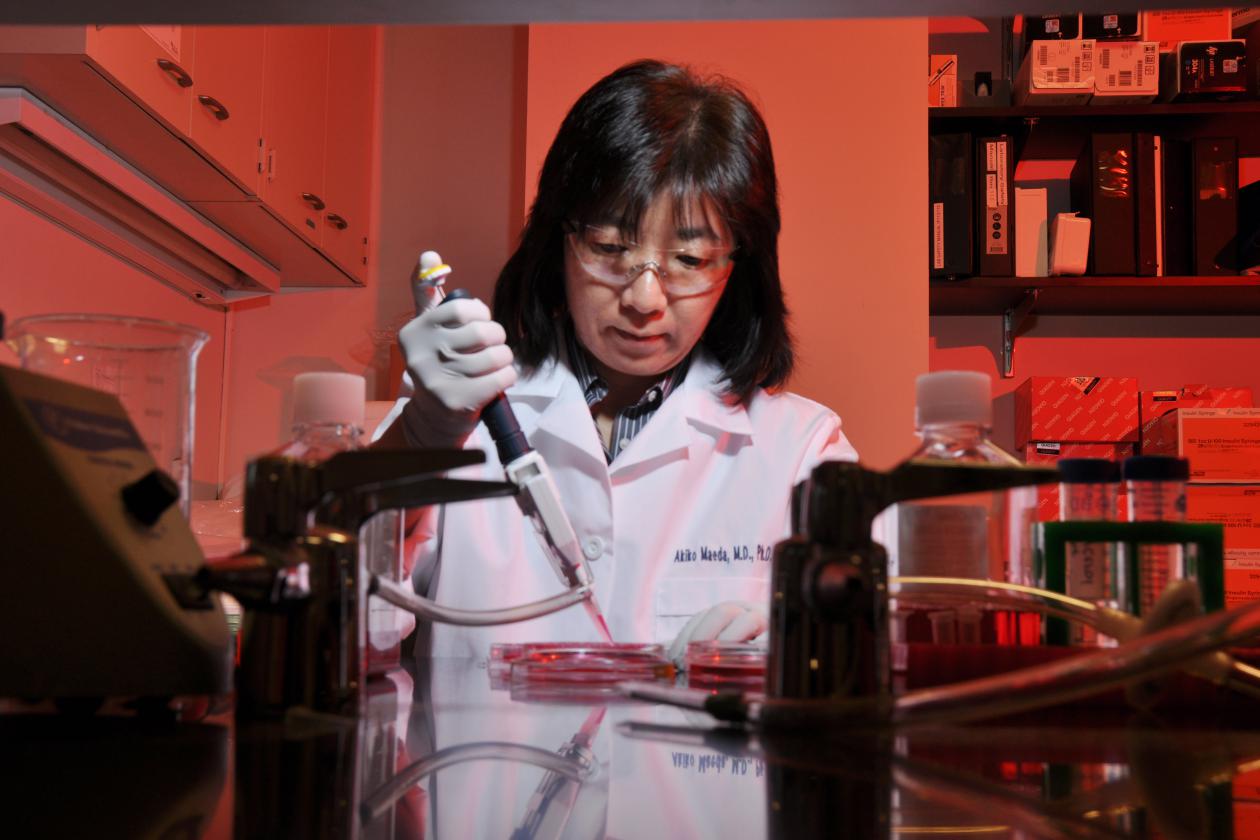 Research to Prevent Blindness (RPB) is partnering with the International Retinal Research Foundation (IRRF) to advance knowledge about age-related macular degeneration (AMD) through novel stem cell research. RPB/IRRF & RPB Sybil B. Harrington Catalyst Awards for Stem Cell Research Approaches for Age-Related Macular Degeneration (the Catalyst Awards) have been given to three leading researchers. Each will receive $250,000 over four years. Research related to both dry and wet forms of AMD is supported by these awards.
Said RPB President Brian F. Hofland, PhD: "The concept for these partnership grants evolved out of a significant gift that we received from an anonymous donor who wanted us to focus on stem cell research and AMD. It came with the condition that we would find matching funding. We found a valuable partner in the International Retina Research Foundation very quickly for two of the awards, and one we matched with bequest money that we received from the Sybil Harrington Estate – a generous family that is committed to health-related research on several fronts."
There also will be a collaborative learning component that will have the three researchers work together and share information on areas of mutual interest and overlap, according to Hofland.
We are especially encouraged that this all came together at a key time in the field of stem cell research, and we are hopeful that these three awards together will indeed be a catalyst for breakthroughs in this area.
Brian F. Hofland
"We are incredibly excited about the potential impact on AMD stem cell therapies that could result from this partnership," adds Sandra Blackwood, Executive Director, IRRF. "RPB and IRRF both seek to accelerate vision science discoveries that could lead to life-changing treatments for patients who have lost sight. By pooling our resources we can better meet the needs of the scientists who are doing the actual heavy lifting."
"Stem cell-based, sight-restoring therapies may become available for patients with eye diseases in the next few years," says Jeffrey Goldberg, MD, PhD, University of California, San Diego, and a member of RPB's Scientific Advisory Panel. "But there are still hurdles to overcome. The Catalyst Award recipients are working on critical aspects of those issues and could significantly accelerate the efficacy of those treatments."
These Catalyst Awards provide seed funding for high-risk/high-gain innovative, cutting-edge vision science research conducted by:
David M. Gamm, MD, PhD, RPB/IRRF Catalyst Awardee, University of Wisconsin School of Medicine, whose goal is to optimize transplanted retinal pigmented epithelium cell survival based on an innovative hypothesis. Gamm is a leader in the RPE stem cell transplantation field. Cell survival is critical to the success of RPE transplantation as a therapy for retinal degenerative diseases.
Akiko Maeda, MD, PhD, RPB Sybil B. Harrington Awardee, Case Western Reserve University, who proposes to test the validity of induced pluripotent stem cell (iPSC)-derived retinal 3D-optic cups as platforms for individualized drug screening for AMD patients. The combination of stem cell and pharmacologic approaches greatly increases the potential for translation of the concepts under investigation into treatments for patients.
Budd A. Tucker, PhD, RPB/IRRF Catalyst Awardee, University of Iowa Carver College of Medicine, whose main objective is to produce outer retinal cell grafts (grown from fibroblasts taken from a patient's own skin) on biodegradable scaffolds and deliver the cell scaffolds into an eye. This work could solve two problems facing cell transplantation methods today: immune response, and the enormous loss of cells that occurs following bulk injection of stem cells into the eye.
# # #
RPB's mission is to preserve and restore vision by supporting research to develop treatments, preventives and cures for all conditions that damage and destroy sight. Since it was founded in 1960, RPB has channeled more than $331 million into eye research. As a result, RPB has been identified with nearly every major breakthrough in vision research in that time.
Since 1997, the International Retinal Research Foundation (IRRF), located in Birmingham, Alabama, has been committed to accelerating and sustaining targeted research efforts into the diseases of all structures of the human eye. The IRRF provides financial support of vision research directly, as well as through strategic funding partnerships, training fellowships, public awareness programs, and the promotion of the exchange of research findings.
December 4, 2014