netbook
desktop
mobile
tablet-landscape
tablet
phone-landscape
phone
Research to Prevent Blindness
Omega-3 Inhibits Blood Vessel Growth in a Model of AMD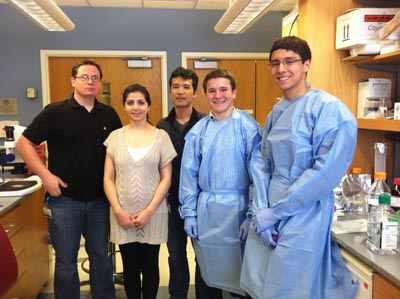 Age-related macular degeneration (AMD), which is characterized by choroidal neovascularization (CNV), or blood vessel growth, is the primary cause of blindness in elderly individuals of industrialized countries. The prevalence of the disease is projected to increase 50% by the year 2020. There is an urgent need for new pharmacological interventions for the treatment and prevention of AMD.
RPB-supported researchers from Massachusetts Eye and Ear/Schepens Eye Research Institute, Harvard Medical School and other institutions have demonstrated for the first time that the omega (ω)-3 long-chain polyunsaturated fatty acids (LCPUFAs), DHA and EPA (commonly found in seafood), and their specific bioactive products derived from the cytochrome P450 (CYP) pathway, can influence choroidal neovascularization (CNV) and vascular leakage by modulating micro-environmental immune cell recruitment to the site of these lesions (abstract).
"These are the first results showing that omega (ω)-3 LCPUFAs and their CYP derived metabolites can regulate choroidal angiogenesis in vivo. The fact that this can be accomplished with physiologically relevant naturally occurring lipid metabolites is of significant clinical interest as these molecules are readily available and considered to be safe. Our findings not only show promising therapeutic potential for resolution of neovascular AMD, but also for other conditions or diseases that involve pathologic angiogenesis and inflammation," said Kip Connor, Ph.D., Assistant Professor in Ophthalmology at Harvard Medical School, senior author of the paper, and an RPB Special Scholar awardee.
"Given the prevalence of neovascular eye disease, the potential impact of this study is highly significant. We have identified unique endogenous lipid biometabolites that are able to inhibit pathologic retinal angiogenesis, a major driver of vision loss worldwide. It is our hope that future studies will allow us to develop specific therapeutics that harness this knowledge resulting in a greater visual outcome and quality of life for patients suffering from these sight threatening diseases," Dr. Connor said.
June 17, 2014
Subscribe
Get our email updates filled with the latest news from our researchers about preventing vision loss, treating eye disease and even restoring sight. Unsubscribe at any time. Under our privacy policy, we'll never share your contact information with a third party.