netbook
desktop
mobile
tablet-landscape
tablet
phone-landscape
phone
Research to Prevent Blindness
Eye Divergence in Children Linked to Risk of Mental Illness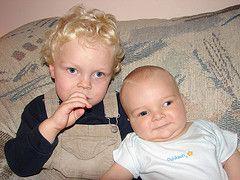 Children whose eyes are misaligned and point outward are at significantly increased risk of developing mental illness by early adulthood, according to findings of an RPB-supported, Mayo Clinic study published in Pediatrics, the official journal of the American Academy of Pediatrics. The retrospective study examined the medical records of 407 patients with strabismus (misaligned eyes) and compared them with records of children matched for age and sex but with normal eye alignment. Children with eyes that diverged (exotropia) were three times more likely to develop a psychiatric disorder than were the control subjects, while those with inward deviating eyes (esotropia) showed no increase in the incidence of mental illnesses.
Patients with intermittent exotropia seemed to be particularly prone to developing significant psychiatric diseases by the third decade of life. Intermittent exotropia is a condition in which the eyes sometimes look straight ahead and work together, and other times one eye deviates outward while the other remains normally fixated.
Brian Mohney, M.D., the Mayo Clinic pediatric ophthalmologist who led the study, says the results can help alert physicians to potential problems in their pediatric patients. "Pediatricians and family practice physicians who see children with strabismus should be aware of the increased risk of mental illness," says Dr. Mohney. "They can hopefully be alert to the earliest signs of psychiatric problems in patients with exotropia, so they can consider having them seen by a psychologist or psychiatrist."
Strabismus is a misalignment of the eyes that affects three to five percent of children, and about 125,000 new cases are diagnosed each year in the United States.
December 2, 2008

Crossed Eyes
[Note: this is an older, but still potentially useful, article from the RPB archives.] Eugene R. Folk, MD, Professor The eyes should work together as a team. When one eye is deviated (turned too far in one...
Subscribe
Get our email updates filled with the latest news from our researchers about preventing vision loss, treating eye disease and even restoring sight. Unsubscribe at any time. Under our privacy policy, we'll never share your contact information with a third party.