A Career Refocused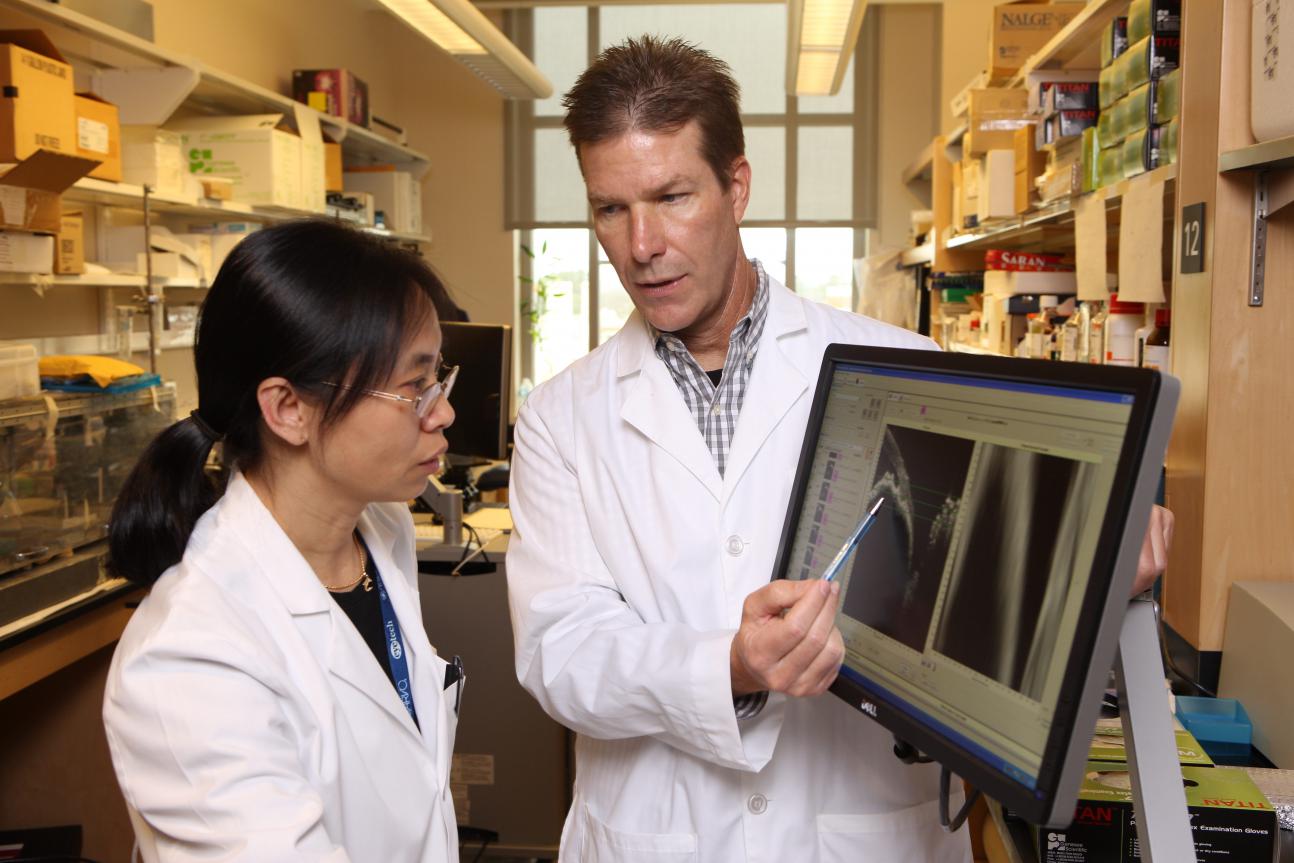 "I have worked with RPB and have been supported by RPB in a variety of ways," says Dan Stamer, PhD, Duke University. "When I was just starting my research career, at the University of Arizona, I received an RPB Career Development Award (CDA). The impact was immediate. Within months I added a technician to my team and could spend more time thinking about and testing new ideas. My focus is the primary outflow pathway of the eye, which is the main mechanism for regulating intraocular pressure [IOP]."
There are many normal daily activities (rubbing your eye, squinting or just waking up) that raise IOP, according to Stamer. The primary outflow pathway is pressure sensitive, and acts like a shock absorber. In most people, the shock absorber dampens IOP spikes and keeps IOP within a very narrow range over your whole life. "If you have glaucoma, the shock absorber wears out over time, causing elevated IOP and bigger pressure spikes are transmitted to the delicate nerves in the back of the eye, which causes you to lose vision," he says.
"The CDA-supported work allowed me to compete successfully for National Eye Institute grants and publish high impact papers—all on different aspects of this mechanism."
"After some time I became Research Director at Arizona. In that role, I helped manage the Unrestricted Grant from RPB, providing gap support for unfunded scientists, pilot research, equipment purchase and maintenance, etc. RPB kept the science moving forward for our Department.
"In science, as in anything else, you can get comfortable and complacent. I was awarded an RPB Sabbatical Grant to visit a distant laboratory where I learned a new technique for measuring outflow facility. This new technology now drives much of what I do in the lab, creating a multiplier effect for my group and my colleagues who now use it. So, for a relatively small investment, RPB has made a significant impact on me and others who study glaucoma.
"While I was on sabbatical, it became clear that I had to make a move with my career. I realized I was missing key colleagues with whom I could work to develop a better glaucoma treatment, which is my ultimate goal. RPB was the catalyst for the process of understanding and decision making that led me to move to Duke.
"Now, at Duke, with my recent Senior Scientific Investigator Award, I feel like I am coming full circle with RPB's support. I will be screening for compounds that modify the shock absorber in glaucomatous eyes, and developing technology to monitor the impact of treatment and progression of disease. I am confident that I am now poised to help get a new drug on the market and save vision for those who have glaucoma.
"Mine is just one of many RPB career support success stories. Very few funders will help you when you are just starting out, or have a non-conventional idea, or encourage you to reinvent yourself. RPB gets it."
June 6, 2015